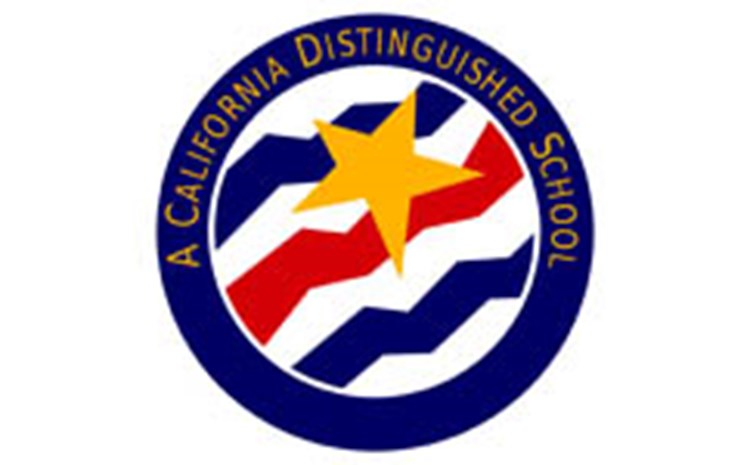 Evans Elementary is Awarded California Distinguished School
This prestigious awards goes to schools with the highest overall achievement scores in academic and non-academic indicators, or those with high concentrations of low-income students and English learners that significantly improved or maintained high scores.  Evans school was asked to write about one of the many practices that contribute to such high student achievement and success.  The best practice written about is "Teacher Leadership Creates Student Achievement."
Evans Elementary School is described as a professional, educational, and mentoring community committed to partnership and academic success for all students. What Evans provides makes a difference in the lives of our students, our families, our community, and society as a whole.  This diverse community has one common goal: that all children will receive the education they deserve, that academic gaps will be closed, and that all students will meet or exceed California's rigorous Common Core grade level standards. The school is located in Garden Grove, California and is one of 70 schools in the Garden Grove Unified School District.  Garden Grove Unified School District is the second largest school district among the 28 public school districts in Orange County.  Evans school has a diverse population of 509 students, or as we call them scholars rich in diversity and culture. At Evans 59% of the students are Hispanic, 35% are Asian, 2% are White, and the other 4% are Pacific Islander, Filipino, or African American. Seventy-one percent of the students at Evans are socio-economically disadvantaged. 44% are English Learners and 8% are students with disabilities.
School leadership represents a partnership between the principal, teachers, and classified staff, students, families and parent organizations. The principal is a professional educator of 18 years.  There are seven teachers who represent each grade level as grade level representatives, 21 certificated teachers, educational coaches for trainings, supportive classified staff, an active student council, and parents that form a PTA with over 75 volunteers.  Our site-based plan includes lesson studies, research-based strategies, and on-site coaching.  There exists a one-to-one ratio of technology and students to boost the scholars' 21st century skills.  English Learners receive instruction that teaches the forms and functions of English through daily instructional time. The collaborative learning environment created is focused on academic skills, personal skills, and lifelong success.
Evans School is a community with a strong spirit of collaboration and friendship.  Many of the staff members have worked together for decades and celebrate not only professional and academic successes, but also the ones that happen in day-to-day life.  There exists a kinship among the staff that promotes positive staff interaction, a sense of teamwork, a willingness to share, and a professional environment.  Both staff and parents have family members who have attended here. There exists a collaborative community with a strong Parent Teacher Association (PTA), School Site Council (SSC), English Language Advisory Committee (ELAC) and principal/parent meetings.
The mascot at Evans is an eagle that represents the soaring spirit of the staff, students and families that are committed to ongoing scholastic transformation, high expectations for students and staff, and that each child shall have an exemplary elementary education.